Timeshare - A Journey Into The Unknown - Part I
Timeshare – a journey into the unknown is probably the greatest adventure that I will ever encounter in the whole of my life! It was a voyage of discovery that would last over a decade –and one which would inevitably change my life forever! Like so many people who go looking for pastures new, I ran away from my home town, flying-off to sunnier climates, to try and forget the things that had gone wrong in my life, to start afresh, with people who knew nothing about me or my past –but most of all to become a success, so that one day I could return home again in triumph. Leaving my three children, Liam, Carl and Hayley was the hardest thing that I have ever done in my life, but I promised them that if things turned-out the way I hoped they would, then they would not only have the time of their lives when they came out to visit me in Tenerife, but they would also travel the world as well.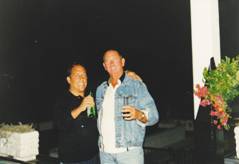 This is John Barry David – the first man I met when I stepped off the plane in Tenerife and a guy who would become a life-long friend of mine. And on the right of me in the picture below is Chris –and to my left is Ashley -two more guys who would become my greatest friends and compatriots on the island, along with 'J.B'. (John Barry) as he was affectionately known by all of his many friends.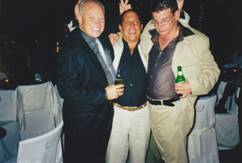 People jokingly called us the 'Four Musketeers', as we spent most of our lives just laughing and horsing around and everyone around us kept saying that we never took anything seriously, -but between the four of us we sold over £10million worth of timeshare!
Working in the Canary Islands had several distinct advantages over living in the UK of course, such as enjoying endless hours of sunshine and warmth, an abundance of nightlife and partying –and a never-ending supply of cheap booze and glorious food! Our local watering-hole in Torviscas, called St. Eugene's Bar also kept me and my fellow workers entertained 7 nights a week, with incredibly good singers, impressionists and comedians –and a compére that was so hilariously funny –and unbelievably crude, it was unreal.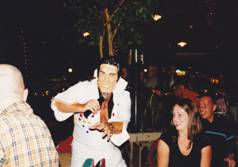 Andy Maughan, the guy who did the Elvis Presley and Chubby Brown tribute show, had people splitting their sides with his hilarious antics and at the end of his show he would have women screaming, as he dropped his pants to reveal a 2 foot-long rubber penis, which he would then swing and swirl to the music, as he pranced up and down the stage. (He also did a superb impression –and venerable piss-take of Noel Gallagher!)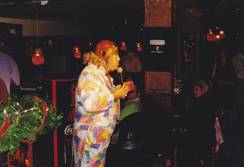 Stupendous singing acts included ABBA, Cher, Tina Turner, Boyzone, Neil Diamond, Billy Idol and Rod Stewart, to name but a few. My great friend Robbie Dominic also did the Wet, Wet, Wet Show and to this day I still claim that he sings their hit songs as good as, if not better than the original versions!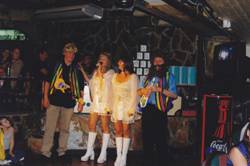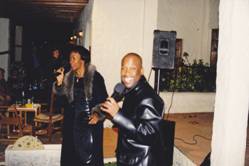 Several years in a row Billy J. Lennon won the accolade of the 'Best Act on Tenerife' for his tribute show to the Beatles. After segregating the audience into 4 separate sections Billy would then drag 4 guys out of the crowd, before dressing them in costumes resembling the ones used on the 'Sergeant Peppers' Lonely Hearts Club Band' album. He would then give the guys guitars and a set of drums, which were made out of wood, before making them wear a 'mop-top' wig each, to really look the part. Billy, who was the absolute double of John Lennon (and even drove a white Rolls Royce, just like his idol used to own) would then play a montage of the Beatles' greatest hits, while each separate group cheered as loud as they could for their individual Beatle.  I actually bought loads of videos of his live shows, and so I never took any photos!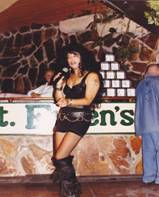 Sorry about that, but here are a few of the singers that entertained us night-after-night –starting with the gorgeous ABBA girls (above left). Next to them is our brilliant Tamla Mowtown duo called 'Soul-to-Soul', a husband and wife act that topped the bill wherever they played. The lady who played Cher had many adoring fans –as apart from having an almost identical voice –and figure to the legendary singer, she also insisted on wearing similar provocative clothes to those worn by her heroine.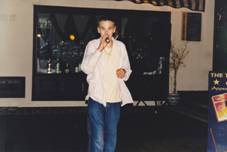 This is Nat' Fraser –a local lad who won Tenerife's Talent competition. Nat had a very versatile singing voice and he was always a big hit with the crowds –and also with the young ladies!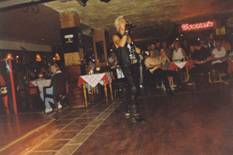 One of my favourite acts was the Billy Idol show. The energy Paul used as he cavorted around the stage would inevitably leave him drenched in perspiration within minutes and he would always stop in the middle of his show and shout-out "Oh the sweat is running down the crack of my arse".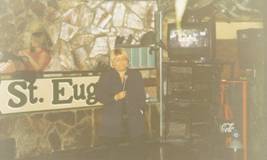 This lady's voice was truly unbelievable. Close your eyes whilst listening to her sing and you could easily believe that Tina Turner was standing on the stage right in front of you. She was also a really funny comedienne, but sadly she died (of cancer I believe) a couple of years after I had arrived on the island!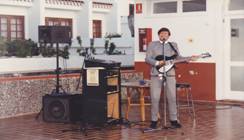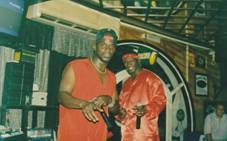 The guy above played a lot of Beatles and Paul McCartney hits at one of the outdoor gigs we went to –and these two soul singers on the right were absolutely fabulous, entertaining the crowds with some truly amazing 'Rap' songs.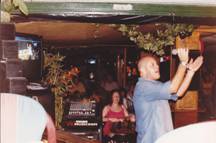 And finally the star of the show –our wonderful host –Mr. Mike Carlton –the funniest man to ever grace a stage –well in my eyes anyway!
Behind the scenes of all this unadulterated frivolity lurked the lucrative world of timeshare, which included the 'Good', the 'Bad' and the 'Downright Ugly' –and my indoctrination into the fold would prove to be a very tough experience, as my Manager was a veritable task-master, who ruled his team of sales-guys with a rod of iron. Being torn-off a strip in front of the whole workforce was par for the course and slanging matches were a daily occurrence as our great leader would pulverise any subordinate who dared to stand toe-to-toe with him into early submission, with his continual onslaught of ranting and raving! (If anyone here has seen the movie 'Glengary, Glenross then you will know exactly what I am talking about!) However, I battled my way through those first few months, despite the fact that I was getting battered from pillar–to-post by my boss, had all my money stolen by opportunist thieves –and I was also missing the kids like crazy!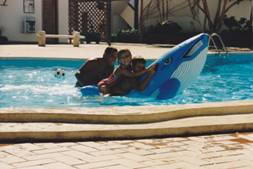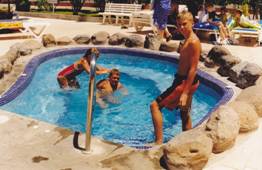 In November 1998, 11 weeks after I had left my children in the UK, Liam, Carl and Hayley flew out for a 2-week holiday with me in Tenerife, where they began living the dream that I had promised them, by frolicking-about in various swimming pools and Jacuzzi's and swimming in the Atlantic Ocean, for hours on end, before enjoying the delights of bouncing on trampolines, flying down every slide in the local water-park –and revelling in the wonderment of various dolphin, sea-lion and parrot shows.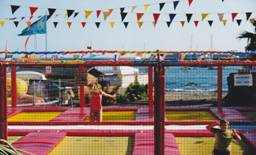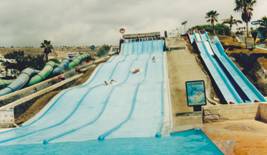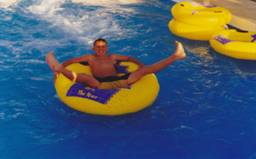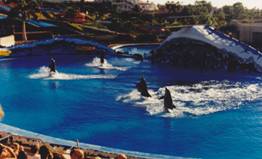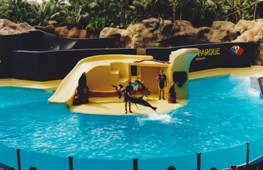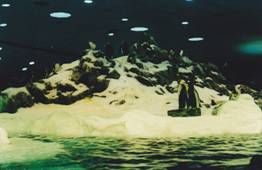 And this is the 'Penguinarium' - a giant dome, full of real live penguins, all frolicking-about on a massive indoor iceberg at the Loro Parque Parrot Park in Puerto-De-La Cruz!

As the years progressed water-sports became second-nature to the children, as they bounced across the waves on rubber rings, jet-skis, water skis, speed-boats, banana boats, surf-boards, and air-beds (to name but a few) and all four of us also enjoyed several hours swimming–and also 'sailing' around 'under' the ocean, as we embarked on various scuba-diving courses, a truly amazing 'bob-diving' adventure –and an unforgettable ride along the bottom of the ocean in a 'yellow submarine'.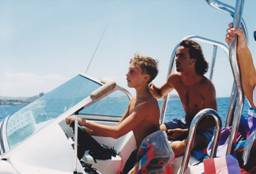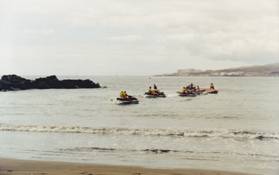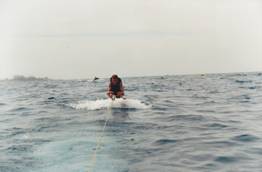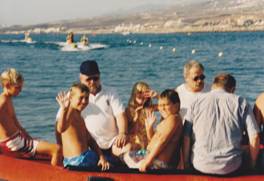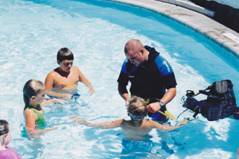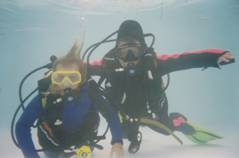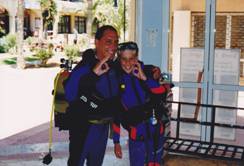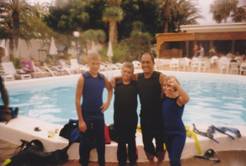 In April 2002, 2 months after Liam's 12th birthday my son and I became qualified P.A.D.I. 'Open-Water' divers, after doing our final open-water dive in the Atlantic Ocean, which included surviving a horrendous ride in a dinghy on an incredibly choppy sea. Sadly Hayley and Carl were too young to do the course, but the pair of them easily passed their junior 'Bubble-Tank' scuba-diving courses in one of the hotel swimming pools. (Hayley later passed her P.A.D.I. Open Water course on the island of Koh Tao in Thailand, in September 2011).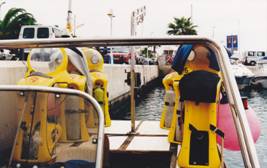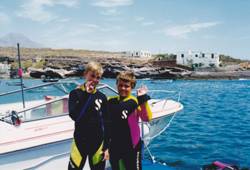 Bob-diving was an amazing experience for all of us. Instead of having to carry heavy air cylinders on our backs and sticking regulators in our mouths to be able to breathe underwater, we simply sat on seats inside the 'Bobs', before putting our heads into goldfish-bowl type helmets, which were air-locked, so the water couldn't get at us. After depressing a button on our steering wheels, we simply glided through the ocean with the greatest of ease –amazing.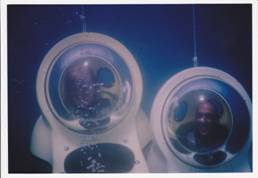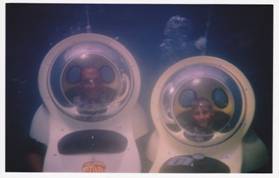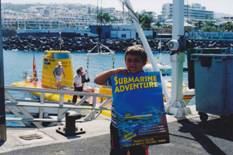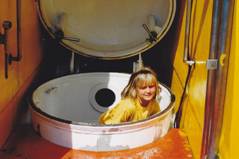 To keep their adrenaline flowing I treated the kids to several hair-raising rides around the local go-carting track, an incredible quad-safari across the rocky terrain and over the sand-dunes of southern Tenerife, a 22-mile push-bike ride from the crater of the highest mountain in Spain, right down to the Ocean-front –and a flight on the frightening Bungee Rocket, which catapulted my beloved off-spring 200 feet into the sky at some ungodly speed!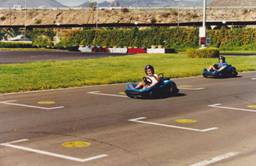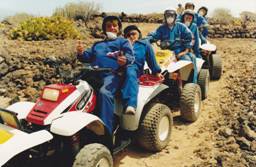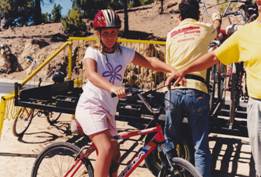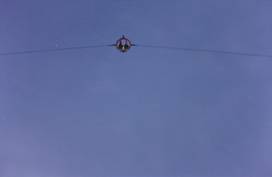 If that wasn't enough to get their hearts racing, then how-about speeding-down a hair-raising toboggan run, around hairpin bends at ridiculous speeds –or paragliding 100feet above the ocean, with only a parachute and a piece of rope to stop them from plummeting to the waters below! The trouble is my children were all too light to do the paragliding alone –and so I had to go with each one of them individually!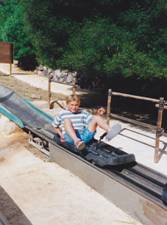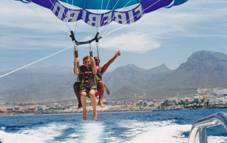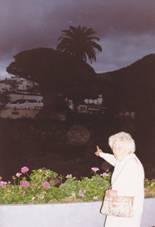 Apart from having a vast amount of unadulterated pleasure the children also enjoyed several cultural experiences, such as visiting the incredible Pyramids of Guimar, which were built by the Guanches, the first people to inhabit the Island thousands of years ago.  I also took them to see the 2,000 year-old Dragon Tree in Icod De Los Vinos and a few days later all 4 of us took a cable-car to the summit of Mount Teide, where we literally walked 'above' the clouds.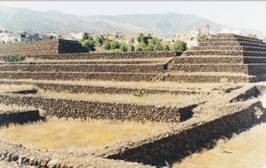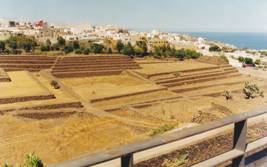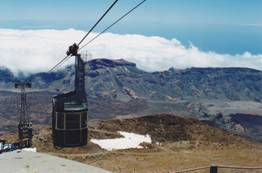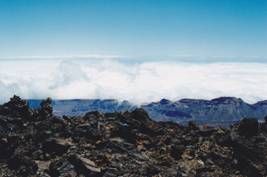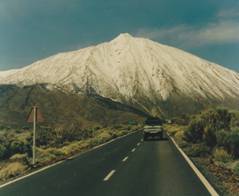 Within a year I had earned enough money to enable me to move into a decent apartment –and 6 months later I treated myself to a very nice car –which I was able to pay for in cash. After 2 years I kept my promise to my children, by taking them around the whole of America, (the story of which is told in 'Battle of the Greyhounds, Part I – America'). And so the holidays kept coming, as I continued looking for more things to entertain my children.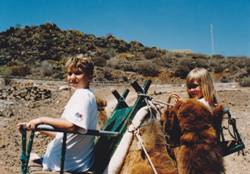 A camel-ride across a mini-desert was one of them –and this also added one more of my '80 Ways' to my list, of course. The kid's also loved battling it out on the ten-pin bowling alleys, shooting lots of pool, playing numerous games of crazy golf, riding bucking bronco's, sailing dinghy's -and pedalo's –and having endless card sessions.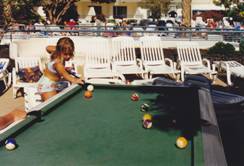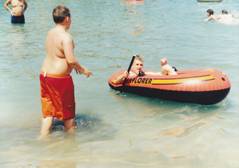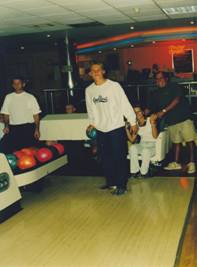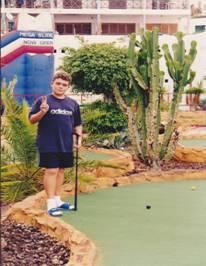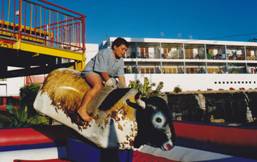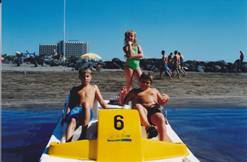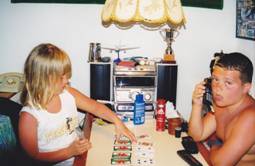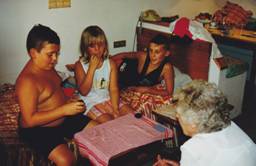 One Christmas my mother came out to Tenerife with the children and together we celebrated her birthday on the 20th December –the kids doing a special 'Magic Show' for her in the apartment. We then ventured out to St Eugene's for the night –where Mike dragged poor old Kit up onto the stage, before embarrassing the life out of her! A few days later we had a special birthday party for Hayley (even though her birthday is actually on Christmas Day) where we were joined by several of my friends and colleagues –and a dozen of their lovely children.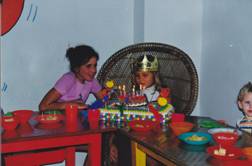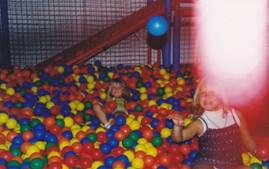 While we are on the subject of partying let me just say that all 3 of my children can eat like horses and not a night went by when we weren't stuffing our faces with Chinese, Indian, Italian, Mexican or American food! The children also loved such Spanish delicacies as Canarian chicken, Paella and Spanish omelettes. Lunch often consisted of a box of burgers from McDonald's, a bucket of chickens from KFC –or, if I had my way, a dozen plates of delicious Spanish tapas –and that was after we had all eaten a full English breakfast just a few hours earlier –which had been cooked by yours truly, of course! Barbeques were also a big favourite with the kids –and every weekend Hayley simply insisted on having a sumptuous Carvery for her 'traditional' Sunday lunch!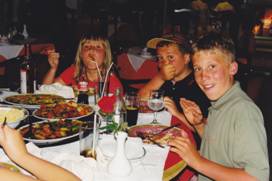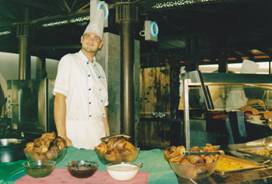 One of our most memorable trips was on the 'Fun Cat'–a £2million catamaran that took all 5 of us, including my mum, out to see the wonderful whales and dolphins that swim off the coast of southern Tenerife. The children had brought with them their new giant water-pistols, which I had bought for them the day before –and before I knew it they were having an all-out battle with the crew, who were now dressed in their oil-skins, to try and protect them from the bombardment of water, as the kids fired mercilessly at them from all angles!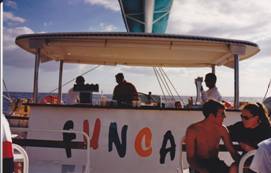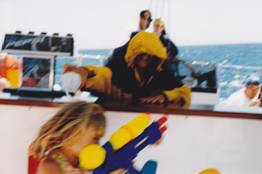 In the evening we all went to the Castillo De San Miguel, where, after shaking hands with King Arthur we were treated to a fabulous hour of medieval jousting, as four 'knights of the round table' battled-it-out to win the hand of the beautiful maiden. We were then led into an auditorium, where we were entertained and enthralled by the magnificent 'Drifters', who sang all of their fabulous hits in an unbelievable stage show that lasted for nearly 2 hours.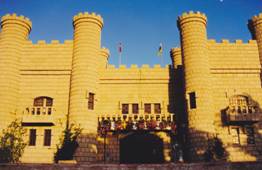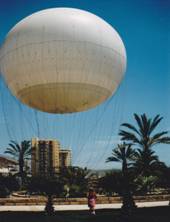 To round-off an unforgettable holiday we all went up in the Los Cristianos balloon, which took us high into the sky, giving us magnificent views over the south of Tenerife.

   Continue to PART II >>